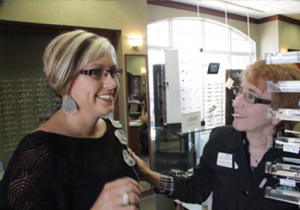 Vision Health Specialties offers a staff experience that is fun, friendly and always willing to help our patients. Our staff is happy to help you fit in an eye exam during your busy schedule, and answer any questions you may have regarding your eye health and needs.
We'll help you develop an eye care plan that fits into your particular needs.
And we couldn't do it without our staff, who is more than willing to go above and beyond the call of duty to help our patients:
Our Receptionists (Left to Right)
Meet Alicia & Rebecca & Karen
They spend their time greeting you, our patients, verifying insurances over the phone to make sure each patient is best prepared before coming in, and assisting those patients who first arrive at our practice, such as where to go, who to see, and what's new.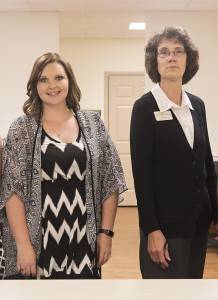 Our Checkout Team (Left to Right)
Teresha and Eliana run the checkout.
We know that once your exam is over, you have places to go, so we have a team dedicated for just that.
If they aren't helping the patients at the office, they often answer the phone line to help with appointments.)
Our Opticians (Left to Right)
Meet Kristi, Nancy, Kim, and Brenda.
Our opticians are trained in eyewear care. If they aren't helping with someone buying a new pair, they'll often be fixing an old one.
We know that eyeglasses are an important asset to your life, and we want to ensure you are happy with your vision at all times.
Meet Our Technicians
With 4 doctors, we have a full team of assistants and technicians. They make sure your visit with our eye doctors go quickly, smoothly, and with excellence.
From Left to Right
Sam – Contact Lens Technician (Tall guy in the back)
Morgan – Dr. Sheets' Technician
Clarissa – Dr. Sheets' Assistant
Jamie – Clinical Team Leader
Robin – Dr. Pharis's Assistant & General Assistant
Bailey – Technician
Paula – Dr. Cook's Technician
Savannah – Dr. Cook's Assistant
Val – Assistant